Places of Interest - Polis Area
Lysos Village
The traditional village of Lysos is just 15 minutes drive from Polis. In the North-East it connects to Stavros tis Psokas(Forest Picnic Site - 22Km), the Monastery of Kykkos and from there on to the mountain resorts of Troodos. Lyssos covers a range of 9,526 hectares of Paphos and the village is built at an average altitude of 560 metres. As far transportation is concerned, Lyssos is connected to Polis Chrysochous via the Meladeia - Peristerona - Steni road. In the north-west it connects to the village Pelathousa and from there on to Polis Chrysochous. You can reach Lyssos and from Skoulli-Peristerona road.
Baths of Aphrodite
Baths of Aphrodite place, a natural pool where legend has it that the Greek goddess of love, Aphrodite, used to take her baths. The serene pool, shaded by a fig tree and surrounded by beautiful examples of maindenhair fern, can be reached by nature trails from Akamas. Is about 3km from Latchi and 9km from Polis, and from there start the Akamas National Park towards the cape. Also you can find a sea-food restaurant and a kiosk there.
www.OdysseasPhoto.gallery/shop
Akamas Peninsula National Park/Akamas Forest
Baths of Aphrodite is nearby Akamas Peninsula National Park (from "Baths" and from the "Neo Chorio Village" start the Akamas National Park with roads towards Cape Arnaoutis(Cape Akamas), you may also reach Cape from other directions(from Pegeia, Drouseia Village, etc)). In the Akamas Peninsula there is a road (NOT tarmac) for all kind of vehicles(some roads require 4WD car) towards Cape Arnaoutis. A walk along its nature-trails(mountain mainly) accompanied by the panoramic view of the bay of Polis, is an unique experience. Also, you may get a boat-trip to Akamas Sea from Latchi Harbor or go on a safari around. In Akamas Area you will find many trees&plants, wild flowers & small wild animals.
www.OdysseasPhoto.gallery/shop
Polis Archeological Museum
Museum of Rural life in the village of Steni
Polis old B&W Photo Gallery
www.cyprusphotomuseum.com old B&W Photos of Polis for Sale - Photo Gallery
Latchi(Polis) Harbor
(Modernized&Extended recently)
Polis has a small Fishing Harbor at Latchi. Harbor is famous for its fresh fish and beautiful coastline. Also this harbour Modernized & Extended recently(for yachts). Around the harbour exist many fish taverns/restaurants, you may have a sea-food meal or just chill out, watching the fishermen with their catch !!! Nearby Latchi mainly to Akamas side there are many water-sport facilities and sandy beaches. Just before entering Latchi is the Polis Municipal Beach.
www.OdysseasPhoto.gallery/shop
Polis Square
Polis Square attract many Tourists/Visitors in the evening (and in the day) at tourism seasons mainly. Recently extended, fully pedestrian, the place has many restaurants, shops, bars, jewellers, souvenir-shops, book-shops, taxi-office, photo studio etc.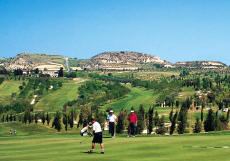 Tsada Golf Club on the hills of Tsada Village
Located 20 minutes from the town of Paphos, Tsada Golf Club is 18 holes of superb championship golf set, this was the first grass course to be built in Cyprus in 1994.
18 holes, Par 72, 6060 meters